%vote getElementRating(default,[ms_2])%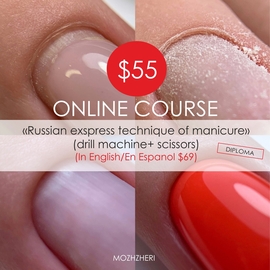 Detailed professional online tutorials of Russian manicure techniques (in English and Spanish) for nail artists and the best tools.
Video tutorials will be sent to your emails after payment. You will have access to them at any time. You will receive certificates to your emails within 5 days. Each video tutorial lasts more than 1 hour. All techniques are demonstrated at real model hands only (not artificial nails!). This is unique opportunity to study Russian manicure methods staying inside.

New video "Safe combined manicure" (machine, bits, cutting tool).
Contents:

- rules of using machine
- choosing tools and bits
- safe gel nail removal using bits
- Getting ready for manicure
- 2 quick and safe techniques of combined manicure (clean cuticle cut)
- Rules of using machine at quick rotations
- Cuticle polishing
- Getting the nail surface ready for manicure, nail degreasing secrets
- Leveling of nail surface using base coating for all nail types (including problematic cases)
- Trouble of chips while having gel coating
- Proper and safe nail shape filing
- Gel nail polishing (close to cuticle)