MACRO MANICURE (Russian manicure)
%vote getElementRating(default,[ms_2])%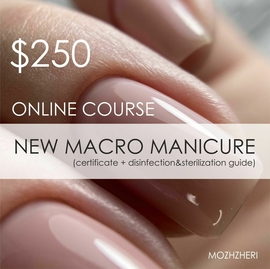 RUSSIAN MANICURE (macro manicure)

The course is shot in macro, so you are able to see all the little details of the manicure process. We describe each step in detail and give a lot of recommendations for both easy and hard techniques.

In this course you will see:

- safe and fast removal graphics
- order of steps in manicure
- shaping
- about each e-file bit in detail
- right way of working with a bit graphics
- Russian cuticle cutting technique
- buffing
- polish application preparations
- strengthening nail plate with gel
- applying polish closest to cuticle
- top we recommend
- taking photos like we do for our ig page
- disinfection in manicure guide

After watching our courses you will learn the safest ways of doing manicure, without buying a lot of instruments, too!