%vote getElementRating(default,[ms_2])%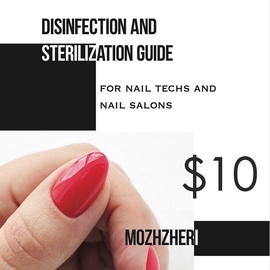 Disinfection and sterilization guide from MOZHZHERI
ALL STEPS in DISINFECTION, PRE-STERILIZATION PREPARATION and STERILIZATION of the instruments
disinfectants, phenolphthalein test, biomedical waste utilization
best salon cleaning rules and schedule for safety
bactericidal air cleaners, dry heat sterilizers and autoclave
diseases to BEWARE in manicure salon!
Guide is a PDF file written in a simple language that will help anyone, and especially aspiring nail techs, to understand and adapt to the process of tools disinfection, which is a crucial process!
Be safe and keep your clients healthy!
Guide will come as a gift to anyone who purchased our MOZHZHERI video courses for nail techs!