Curette
%vote getElementRating(default,[ms_2])%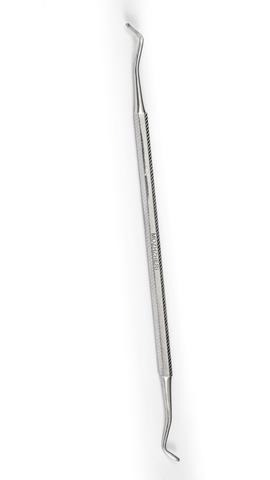 English:
Tool for pedicure procedure - one of the most important tools while providing the procedure! Is ideal for ingrown nails, it becomes possible to solve such problem of ingrown nails with the help of this tool. Is also used as curette for esthetic pedicure and pterygium removal from nail plate. Convenient corrugated and faceted surface of a handle provides confidence while doing pedicure.
Espanol:
Cureta (soporte para tampones)
¡Instrumento para realizar pedicura- es uno de los instrumentos más necesarios para realizar el procedimiento! Ideal con uñas encarnadas, gracias a él es posible resolver un problema como una uña encarnada. También se utiliza como una cureta para la manicura estética y la eliminación de cutícula de la superficie de la placa de la uña. La cómoda superficie moleteada y tallada del mango del instrumento da confianza al realizar un procedimiento de pedicura.