%vote getElementRating(default,[ms_2])%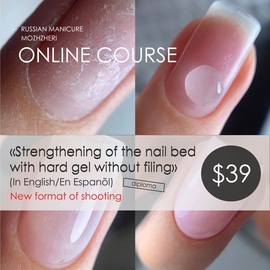 «STRENGTHENING OF NAIL BED WITH HARD GEL WITHOUT FILING»
⠀
NEW FORMAT OF SHOOTING (macro);
UNLIMITED ACCESS TO COURSE;
CERTIFICATE.
⠀
For me as for nail tech the main is manicure looks natural and aesthetic, without any detachment of material when wearing artificial nails
⠀
PREPARING OF THE NAIL BED;
CHOOSE OF MATERIALS;
HARD GEL APPLICATION SCHEME;
COVERING OF GEL POLISH COLOR SO CLOSE TO CUTICLE.
⠀
PROFESSIONAL ONLINE COURSES FOR NAIL TECHS (also suit for beginners). COURSE WILL BE SENT IMMEDIATELY AFTER PAYMENT. ACCESS IS UNLIMITED. ALL MOVEMENTS ARE CLEARLY SHOWED AND EXPLAINED ON THE REAL HAND's MODEL.
to your email will come course and certificate.