%vote getElementRating(default,[ms_2])%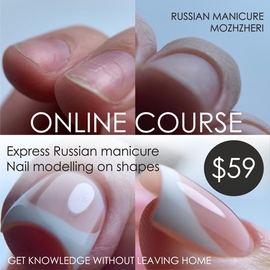 NEW video course for nail techs – 'Nail modeling without filing + combination manicure, in square shape!

We will discuss:
- cleanest and safest combination manicure techniques using any cutting instrument of your preference
- preparing nail plate for gel
- easiest way of attaching forms (suitable for nail techs with zero related experience)
- quick and smart application of artificial material
- building nail architecture
- tips on filing the inside of the free edge
- drawing perfect French manicure

This video class is suitable for nail technicians of any level of expertise!

We gonna share our tips on working quick using most innovative techniques so your work from now on will be only bringing pleasure to you!