%vote getElementRating(default,[ms_2])%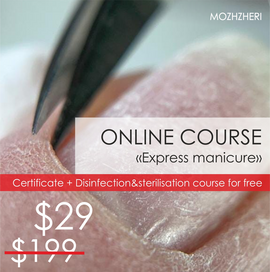 MOZHZHERI Style Manicure and Nail Plate Strengthening online course in video format

What you will know after completing the course:

1. Correct technique to remove old polish
2. Preparation for long-lasting manicure
3. Safe combination technique
4. Treating and polishing
5. Strengthening the nail plate
6. Applying gel polish as close to the cuticle as possible
7. Filing tips
8. Filing from the inside
9. Brake down and demonstration of materials
10. Mistakes review
11. Sterilization and disinfection of manicure instrument

The video tutorial shows the ways to treat skin to achieve perfect manicure look that lasts. The cuticle in this method grows slower and in beautiful shape. It also helps us to apply polish as deep as possible under the cuticle.

Strengthening the nail plate allows you to correct the flaws of client's natural nail, like twisting, cracking, or missing corners.

It is especially important when we file sharp m square and have longer nails.

Applying very close to the cuticle gives a more lasting result, the manicure looks fresh even after quite a while!
in English / en Espanol
a free certificate