MOZHZHERI INSTRUCTOR
%vote getElementRating(default,[ms_2])%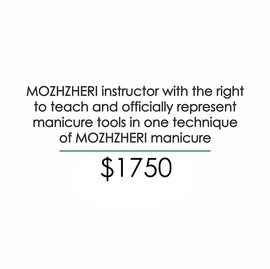 MOZHZHERI instructor with the right to teach and officially represent manicure tools in one technique of MOZHZHERI manicure
▪Video course in English (video training for your students to get acquainted with the following topics included in the course:
-quality of customer service, what helps to keep a customer and increase your sales;
-sterilization and disinfection of the instrument, professional look of a nail tech, selecting equipment, correct organization of the workplace;
-theory of manicure techniques and close to cuticle application;
-theory demonstration on the model in macro video;
-'hands massage for the client' signature technique.
▪English manual book
-unique book by MOZHZHERI, which our instructors provide to their students to help systematize their knowledge: ethics and culture of communication with the client, skin structure, anatomy and physiology of the nail, sanitary requirements and norms, necessary materials for a nail tech, types of manicure, combined technique, coating, problems (3 examples to mail + emailed to you)
▪Brand support consulting
▪"MOZHZHERI Ambassador" certificate with the right to conduct trainings in your region (sent by DHL)
▪️Discount on all brand products -30% for 12 months
Our MOZHZHERI school instructors receive personalized certificates granting them the right to teach our manicure techniques, which are in high demand all over the world!
We:
✅teach you everything an instructor needs to know to teach our technique
✅provide professional MOZHZHERI tools
✅provide all instructional videos
✅provide MOZHZHERI signature workbooks for students
You:
✅keep doing what you love
✅get a flow of serious additional income‼
✅diversify your work activities
✅expand your professional communication circle
You can pick from three different bundles, some are cheaper, others have more perks! We are giving you the opportunity to choose what's right for you now.