MOZHZHERI INSTRUCTOR OF COMBINE PEDICURE
%vote getElementRating(default,[ms_2])%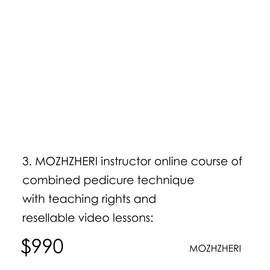 Online course with the right to teach and sell ready-made video lessons for techs from the MOZHZHERI School is here!
What do our instructors get?
✔ Teaching Certificate
✔ Teaching aid for students
✔ Training step by step plan on running one day course
✔ Full set of teaching videos for the instructor with 'forever' access, which you can resell and make a profit
✔ Account advertisement
✔ Our own brand tools for your students to practice during training (MOZHZHERI Tweezers ✂, MOZHZHERI Pusher, bits, curette, sand bits for corns)
✔ 30% discount on MOZHZHERI tools
In just ONE DAY using our teaching methods and materials you will train your students in:
✔ Workplace preparation
✔ Cuticle and corn treatment on the feet
✔ Safe for toes shape filing technique
✔ Correct application of a long-lasting coating that does not lead to onycholysis
✔ Foot massage
✔ ALL STAGES OF DISINFECTION and STERILIZATION of instruments
We ship:
✔ Instructor certificate with our seal of approval
✔ Tool kits for students
Other materials, such as student books and plans are sent electronically!