ONLINE COURSE "FILE TECHNIQUE"
%vote getElementRating(default,[ms_2])%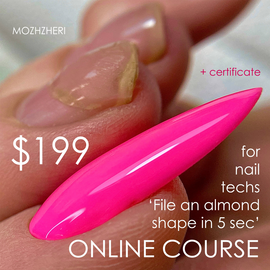 You've been asking us so much to show! We have collected only the information you need! A unique course how to file ovals and almonds correctly!
What's in it:
1. Mistakes in filing oval-almond shapes
2. Lifting pecking nails with liquid gel. Step-by-step filing of pecking nails.
3. Correction with liquid gel using borders. Strengthening nails with liquid gel. Filing liquid gel.
4. Strengthening with polygel. Filing technique
5. Fiberglass. Upper forms. Repair and extension. How to file after the upper forms.
access to course is 1 year
inlcudes 5 certificates