Ceramic bit
%vote getElementRating(default,[ms_2])%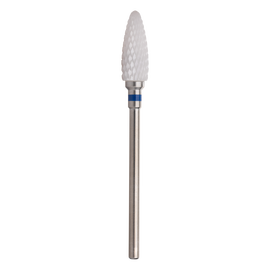 Ceramic bit

Ceramic cone-shape bit for gel nail and gel removal. Last 4 times longer than hard-alloyed bits.
Notch: medium
Cutting part is long-lasting. Is used for correction or filing of gel and acrylic nails. Is ideal for manicure, pedicure, gel nail removal from real (natural) nails.
⠀
Fresas de ceramica

Fresa de ceramica de forma conica para eliminar lacas de gel y 4 veces mas duradera que las fresas convencionales!
Limado: mediano
La parte de limar se conserva durante mucho tiempo. Adecuada para correccion y limado unas acrilicas y de gel. Ideal para manicura, pedicura y eliminacion de lacas de gel en unas naturales.